A "cough" is one of the early signs that your body is signaling that something might go wrong. Coughs occur from many reasons, such as allergies, viral or bacterial infections before leading to illness or flu, including COVID-19. Coughing, itchy throat, sore throat are annoying symptoms. And sometimes coughing interferes with our daily life and people around us.

To relieve cough, besides drinking warm water and stop eating fried food and crispy snacks. MEGA We care would like to recommend natural extracts that directly treat symptoms, can kill viruses and bacteria in the throat, help relieve cough and sore throat immediately by just spraying on the throat.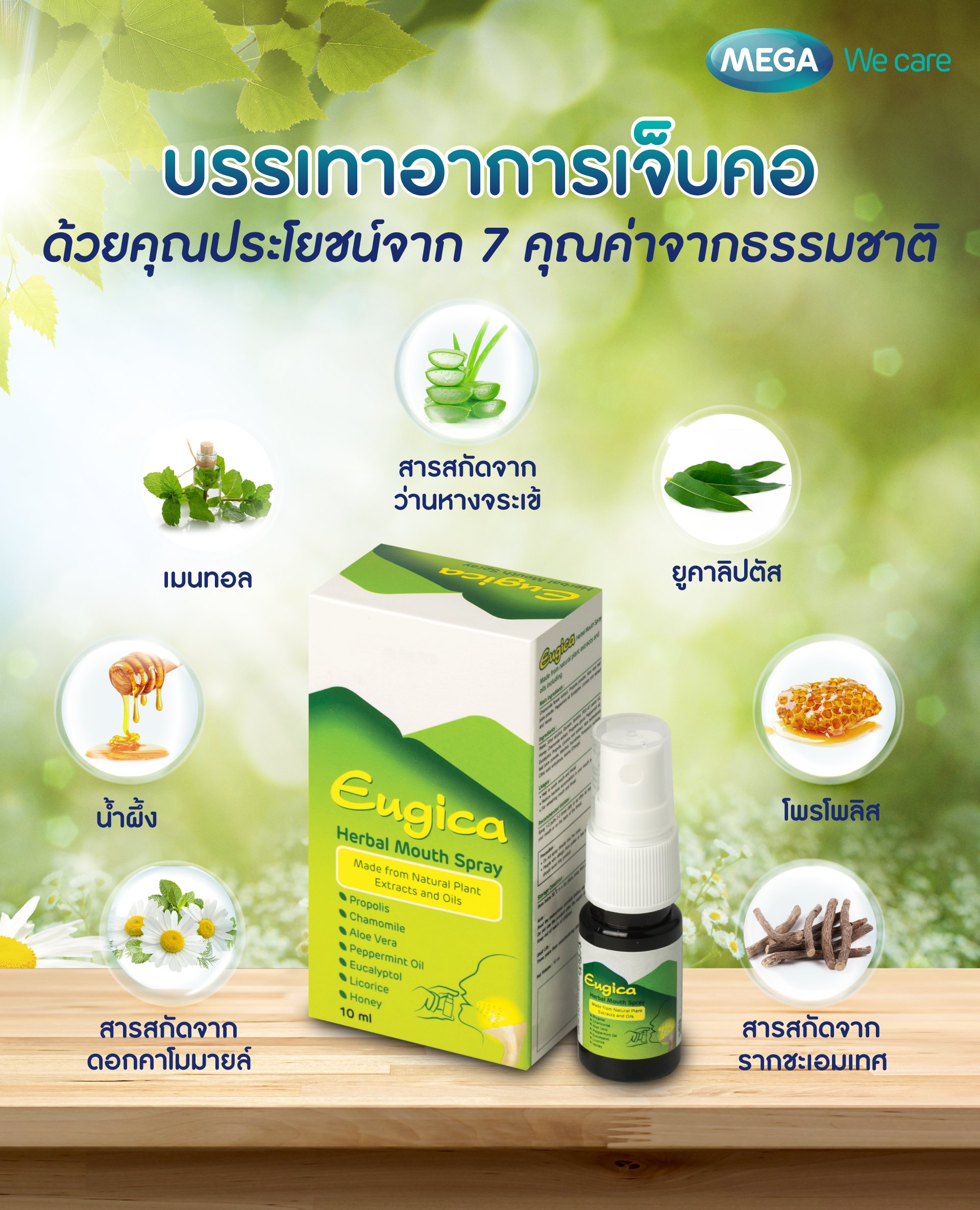 Relieve cough, throat irritation and sore throat with 7 benefits from nature.
Herbal throat spray from MEGA We care contains 7 types of natural extracts: including
Chamomile extract
has anti-bacterial and anti-septic properties.
It helps kill virus, bacteria and fungi in the mouth and throat, exert anti-inflammation activity to reduce swelling and reduce allergic reactions that cause itchy throat, throat irritation and cough.
Propolis.
It is part of the honeycomb that possess natural antibiotic and anti-inflammatory activities. It is effective in killing viruses, bacteria and fungi. It also helps reduce inflammation, swelling and redness in the throat.
Honey.
One of nature's rich nutrients with several good properties, especially antiseptic and anti-inflammatory properties thus help to relieve sore throat and also increase the moisture in the throat, help your throat feel more comfortable.
Aloe vera extract.
A well-known medicinal plant that heals wounds and thereby relieves sore throats at beginning of the onset that start to sting. It also exerts anti-bacterial and anti-inflammation activities to reduce inflammation, swelling, redness, and increase moisture in the throat.
Licorice root extract
It has properties in pulling and expelling phlegm well. It helps reduce cough and throat irritation caused by allergies. And with the sweet taste of licorice root, it also helps to moisten the throat, reduce inflammation as well as relieve cold, cough and loss of voice.
Menthol
It helps dissolve phlegm and moisten the throat, relieve cough and throat irritation.
Eucalyptus
It has a disinfectant effect, anti-inflammatory, bronchodilation and dissolving phlegm, make your throat feel moist, reduce itching and irritation of the throat.

Just spray 1-2 times with herbal throat spray to help relieve sore throat, cough and throat irritation. Not only "Eugica Mount Spray" also helps to take care of the oral cavity, provide a fresh smell and taste good. In addition, it can also be used continuously because it is a 100% natural ingredient, therefore it is safe and can be used continuously without causing irritation or drug resistance.